Services & Support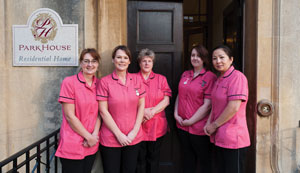 We offer a full range of residential support, including trial stays, respite breaks and convalescent care as well as long term care. Park House's manager has a qualified nursing background. The home is fully registered with the Care Quality Commission.
A system is in place at Park House for each resident to have a key worker for assistance if required. There are always two night staff in addition to those caring for the daily needs of residents.
Resident's Doctors and District Nurses are called when necessary. We also arrange for Dentist, Opticians and Chiropodist to visit when needed.
Services Included
TV in all bedrooms
Telephone, Wi-Fi and Skype
Daily activities
In-house entertainment
Help with ordering medication
Laundry
Other Services Available
Dry Cleaning
Chiropody
Hairdressing
Escort Duties
Fees
We welcome both state funded and privately funded residents. Fees vary depending on type of room and level of care required. Full details can be advised when visiting or call us on 01934 415701